How to properly handle your documents?
Posted by PageFly Collaborator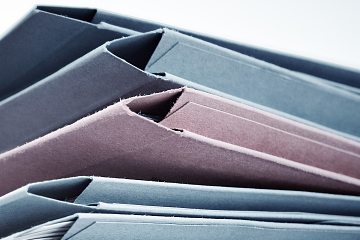 Watching piles of paper on the desk is a pain, and managing the clutter of documents will make you freak out.
Have you ever thought about how long you should keep your taxes, receipts, bank statements, and other essential documents? You may have thrown something away, and then you found them are important later on. Or you keep some documents for a rather long time but end up in no use. Document managing can be a real stress. So, how to handle documents in a right way?
Use an electronic system to store your documents.
Nowadays, the electronic filing system has become the most popular choice when it comes to storing documents. Because it's easier than keeping physical materials to store documents and save space. And all you need is a folder system on a computer and a back-up in the cloud, as well as an external hard drive. Saving multiple copies for your important documents, no worries about losing something important anymore.
Use Apps
There are a lot of apps available that can help you quickly record and store a variety of documents. Many of them can be managed on your smartphone or tablet. Remember to use them and ease the pain of managing mess papers.
What are the documents that need to be stored forever?
Here are some documents should be stored permanently. In case you may need them at any time in the future for a variety of reasons. They are but not limited to:
Academic records,
Diplomas
Transcripts
Baptismal certificates
Birth certificates
Driving licenses
Employment records
Marriage certificates
Medical records
Military records
Passports
…
Documents to store for a certain period of time
Below are the documents that you should keep for a certain period of time, but don't need to store forever. You may need to reference them regularly for a while, then they just become redundant. The tricky part is knowing when you should get rid of these types of records. There's no good answer for everything, but recommended guidelines based on what it is:
Bank statements: One month
Bills: One year for anything tax or warranty related; all other bills should be shred as soon as they have been paid.
Credit card bills: Shred immediately when paid.
Home improvement receipts: Keep until the home is sold.
Investment records: Seven years after you've closed the account or sold the security.
Leases: Keep until you've moved out and have received your deposit back from the landlord.
Paychecks and pay stubs: One year, or until you've received your W-2 statement for that tax year.
Sales receipts: Keep for the life of the warranty for major purchases such as appliances and electronics. For things such as groceries and clothing, only keep the receipt until you know that it won't be needed to return merchandise.
How to get rid of redundant documents?
Using a paper shredder is a quick and easy way to destroy old and unwanted documents. On top of that, it offers enhanced security on your confidential documents. There's no paper trail, no potential for leaks, and no possibility for employee theft of documents once they've been shredded into tiny particles. Those tiny shreds are almost unreadable, so just rest assured. But notice that only shred those documents are no longer in use, as you may still need to hold onto the active ones for reference.
What documents should be shred?
ATM receipts
Bank statements
Birth certificate copies
Canceled and voided checks
Credit card bills
Credit reports
Driving licenses (expired)
Employment documents that have any identifying information
Expired passports and visas
Investments account numbers
Legal documents
Investment, stock, and property transactions
Items with a signature (leases, contracts, letters, etc.)
Medical and dental records
Papers with a Social Security number
Passwords or PIN numbers
Pre-approved credit card applications
Receipts with checking account numbers, credit card numbers, or any other identifying information
Tax forms
Transcripts with identifying information
Travel itineraries
Used airline tickets
Utility bills (telephone, gas, electric, water, cable TV, internet, etc.)
…
If you are losing too much time searching through the clutter on your desk for files that you need. It is time to get the problem nailed.
Make sure to handle your documents appropriately by setting up an efficient filing system and get a nice shredder.