How to celebrate the Halloween in Office
Posted by bonsaii-shop Admin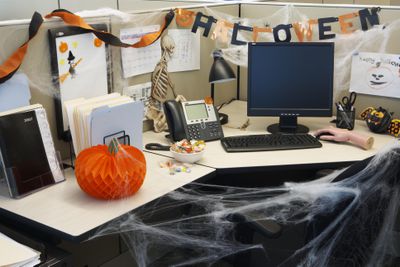 The season of pumpkins, ghosts, candy, and costumes—and it's not just for kids.
Halloween is one of the best holiday traditions to establish and to celebrate at the office because it's unconnected to particular religions so diverse people are rarely offended.
As time goes by,we may start worrying about Halloween costumes and decorations, but only the home, but also the office. After all, we work in the office for a long time,which need more holiday atmosphere.
Here are some tips for dressing the office.
we can dyeing the paper into different colors,or using the Silk cloth,to cover the light bulb.which make the atmosphere different than ever.
Print the insect photos(E.g.,cockroach,spider).if you want to look more luster,you can laminator it.Cut it off ,stick to the wall to make people scream.
Tape,we always can found it in our office.Now,we can use it to make our office look like a homicide scene.Using the tape to build your own body figure.Don't forget to leave bloodstain and make your desk messy.
Red ink with water to make the fake blood,drop it on your clothes to make you look creepy and scary.
And now,the bonsaii Amazon shop have the promotion about the office stationery.come and check it!
There are lots of decorations of the office,take you time to think about it.
You also can offer prizes for best and most festively decorated work area. Enhance the team-building aspects of this competition by encouraging groups of people to work together to decorate their shared work area. Or, have teams pick a specific office location (e.g., lobby, conference room, break room) and each team decorates their area.