Do you know how the paper shredder work?
Posted by PageFly Collaborator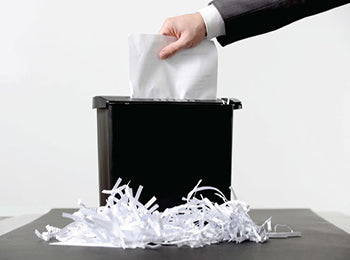 The shredder consists of a set of rotating blades, a paper comb and a drive motor. The paper is fed from the middle of the intertwined blades and is divided into a lot of small pieces for confidentiality.
There are some shredded paper as we usually know,graininess,segment,foam,strip and etc.With the development of the science,the shredder not only shred the paper,but also shred the credit card,DVD,CD or card board.
The paper shredder itself usually consists of a receptacle or bin where the shredded bits of material land. The top of the bin is fitted with a lid where the paper is fed into a slot. When paper touches the cutting head, a sensor activates and the sharp teeth or knives rotate and pull the paper into their jaws until the paper lies pathetically in pieces in the bin. Keep in mind that there's another set of sensors on the bottom of the lid; when the machine rests on top of the bin, it activates those bottom sensors, which then turn on the sensors that rotate the teeth.
In other words, the machine head must be firmly in place for the device to work properly, which is a fail-safe against it turning into a land-based "Jaws" before being properly in place. Even more helpful, a lot of shredders have an emergency shutoff feature that allows you to turn off the power to the teeth quickly.
(so if your shredder no working anymore,please check whether the shred head or trash bin are on the right position.)
If you want to chose the suitable shredder for your daily life,you can base on the SEVEN characters to chose.The style,the ability,the effect,the speed,the width of the shredding paper,the capacity of the trash bin and the other character of the shredder(like the ability of the shred the DVD,credit card and etc.)
The most important thing of the shredder is the effect of the shredding paper(AKA the security level)
You can check up in our previous article about the Security Level of Shredder.