Auto paper rejection function prompts overheating and overloading
Auto forward/reverse and manual forward/reverse functions to prevent paper jams
Universal lockable casters can get to where you want it to go or can be fixed in one place




Shredding type: micro-cut
Shredding size: 5/32 x 30/64 inches (4 x 12mm)


Item: 14.96 x 12.6 x 22.83 inches
With package: 18.11 x 15.47 x 25.16 inches

One-Year Machine Warranty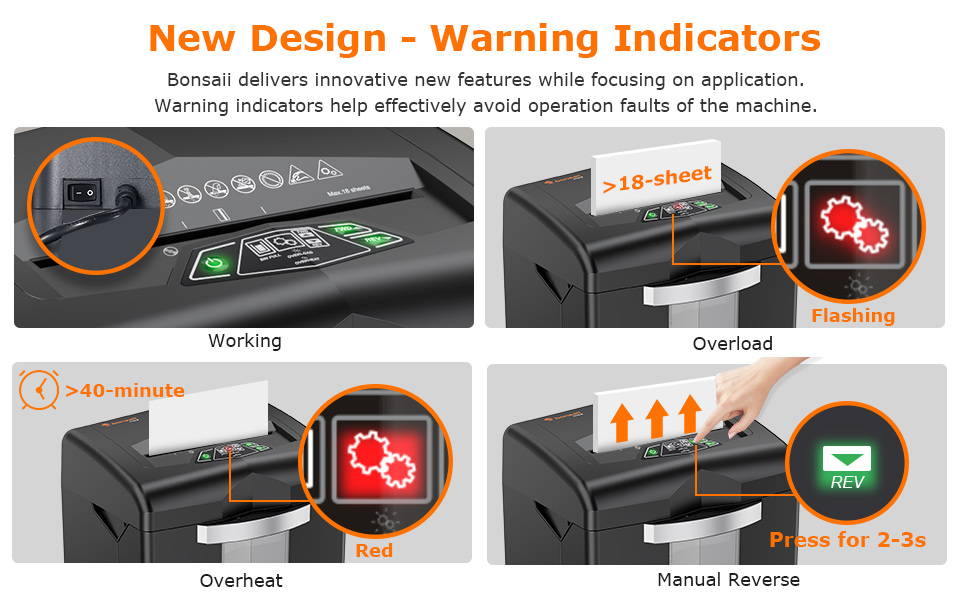 | | | | | | |
| --- | --- | --- | --- | --- | --- |
| | 3S30 | C144-E | 5S30 | 3S23 | 4S30 |
| Serial Name | EverShred | EverShred | EverShred | EverShred | EverShred |
| Cut Type | Cross-Cut | Micro-Cut | Micro-Cut | Cross-Cut | Micro-Cut |
| Shred Ability | CDs/DVDs, Credit Cards, Papers, Staples, Junkmail | CDs/DVDs, Credit Cards, Papers, Staples, Junkmail | CDs/DVDs, Credit Cards, Papers, Staples, Junkmail | CDs/DVDs, Credit Cards, Papers, Staples, Junkmail | CDs/DVDs, Credit Cards, Papers, Staples, Junkmail |
| Cut Size | 5/32 x 1-19/50 inches | 5/32 x 30/64 inches | 1/26 x 5/21 inches | 5/32 x 1-19/50 inches | 5/64 x 1-25/64 inches |
| Max Pages Per Load | 18 Pages | 18 Pages | 5 Pages | 14 Pages | 10 Pages |
| Continuous Run Time | 240 Mins | 40 Mins | 240 Mins | 120 Mins | 240 Mins |
| Cool Down Time | 9 Mins | 60 Mins | 9 Mins | 10 Mins | 9 Mins |
| Noise Level | 58 dB | 58 dB | 58 dB | 58 dB | 58 dB |
| Basket Capacity | 7.9 gallons | 6 gallons | 7 gallons | 6 gallons | 7.9 gallons |
| Basket Type | Pull-out | Pull-out | Pull-out | Pull-out | Pull-out |
| Product Dimensions | 24.6x16.1x12.6 inches | 22.83 x 14.96 x 12.6 inches | 24.6x16.1x12.6 inches | 22.4x14.4x11.1 inches | 24.6x16.1x12.6 inches |
| Safety Feature | Safty-sensor, safe for kids and pets | Safty-sensor, safe for kids and pets | Safty-sensor, safe for kids and pets | Safty-sensor, safe for kids and pets | Safty-sensor, safe for kids and pets |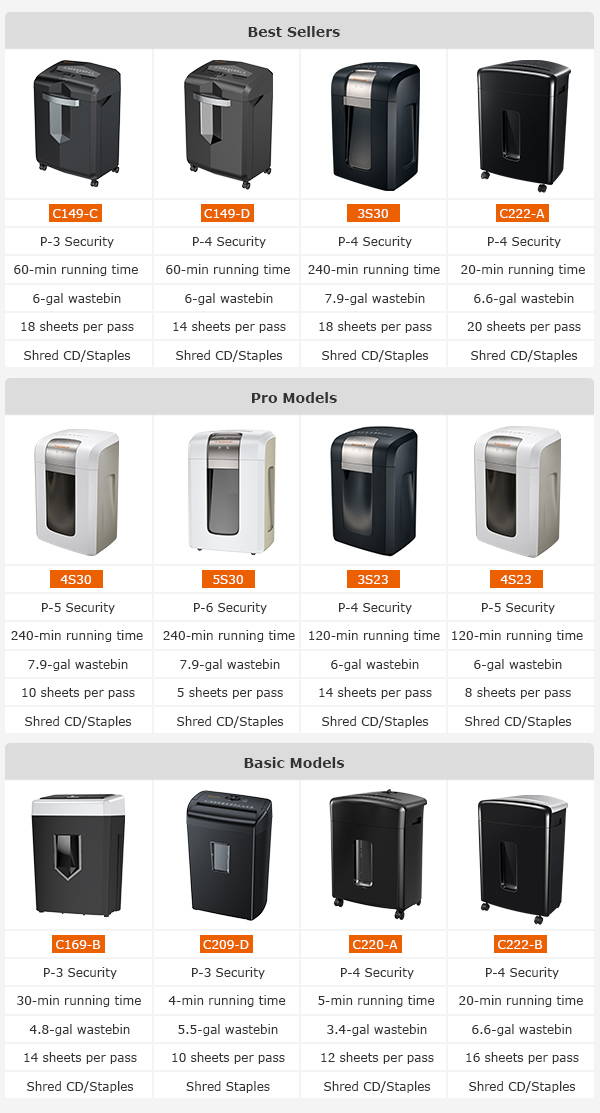 When you notice the shredder is experiencing difficulty shredding, or gets jammed easily, then it's probably time to oil. If you use your shredder occasionally, then oiling your shredder may only be necessary every two months to maintain good performance. If you use your shredder a lot, however, then your best practices are to oil your shredder every time you empty the waste bin. Get your shredder lubricants by clicking here.
If you have any questions about our products and services, please email support@bonsaii.com. We will reply within 24 hours!

Q: How noisy of this 18 sheets paper shredder for home office use?
A: The noise level of this heavy-duty shredder is 58dB, providing you with a quiet enough shredding experience.
Q: Looking for a heavy-duty shredder to deal with wasted cards in my office, has anybody used this shredder on credit cards?
A: Yes, this micro-cut shredder can shred credit cards as well as CDs, staples and clips. Hope it can help you.
Q: What is the heavy duty shredder maximum run time? dose it have overheat protection or any indication?
A: Run time up to 40 minutes, when there is overheating, the red light will light up and the machine will stop shredding so as to protect the machine.