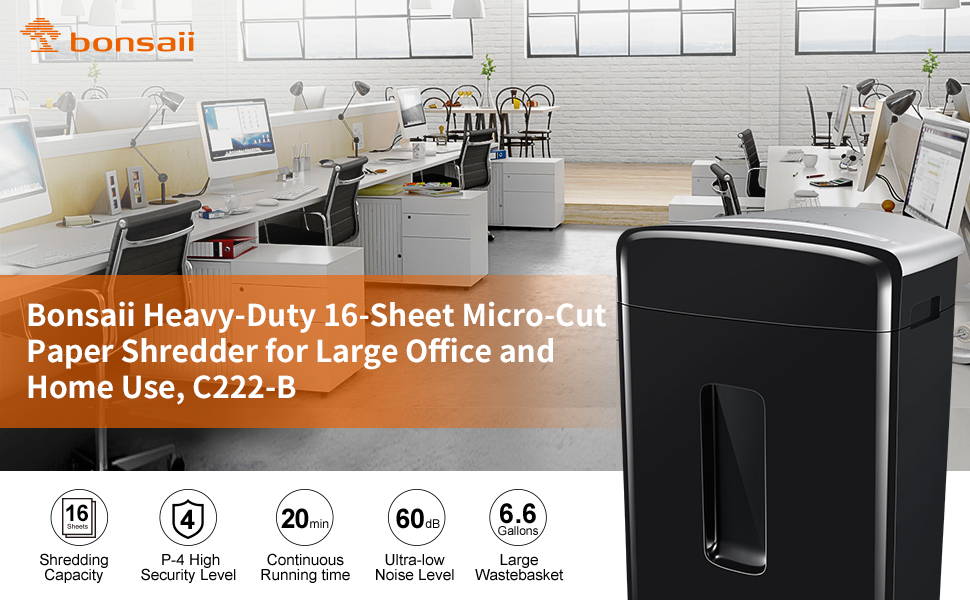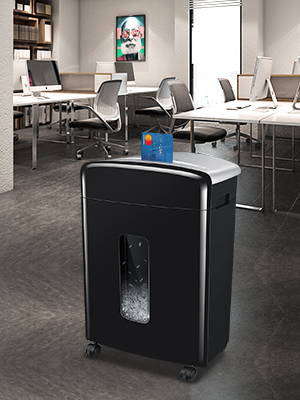 Meets Your Different Shredding Needs At Work/Home

This shredder not only can shred up to 16 sheets of paper at a single pass, but also destroy staples/clips/CD/DVD/credit card, and your personal documents such as ATM receipts, credit-card bills, mortgage statements, pay stubs. It is equipped with durable cutters and advanced jam-proof system. And it can keep working for up to 20 minutes without concerns of paper jams, and destroy paper into tiny pieces measuring 5/32 by 15/32 inches,reaches P-4 high-security,ideal for protecting your confidential information at home and office.
16-sheet shredding capacity
20-minute continuous running time
P-4 high security Level
Shreds paper, credit card, staples and clips,CD/DVD
4 removable universal casters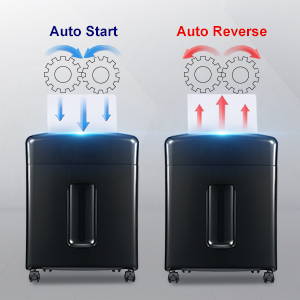 Auto Reverse Jam Proof System
This shredder will automatically reverse when a paper jam occurs. No frustration of paper jams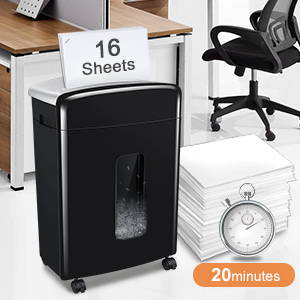 Highly Efficient And Time Savig
Can destroy 16 sheets of paper in one sitting, 1700 sheets of paper can be destroyed within 20 minutes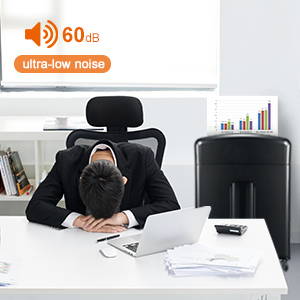 60 dB Ultra-low Noise Operation
60 dB ultra-low noise operation of this shredding machine provides you a quiet and comfortable shredding experience at work or home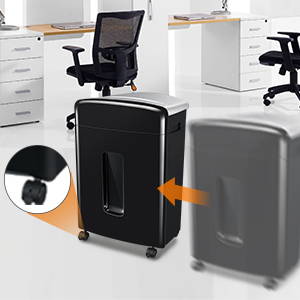 Removable Universal Casters Design
With its 4 removable universal casters and lockable front wheels, you can move and park the shredder machine to every corner of your home or office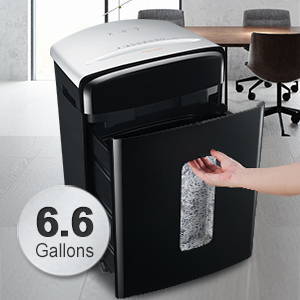 6.6 gallons Large Bin
6.6-gallon large pull-out wastebasket with a semi-transparent window, helps you easily clear out the jams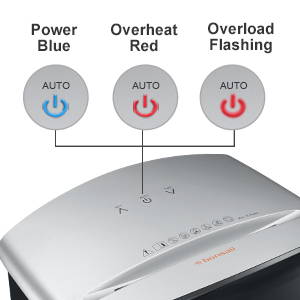 Overheat And Overload Protection
The LED Indicators will blink to show you when the shredder is overheating or overloading. To help you maintain your shredder

| | | | | | |
| --- | --- | --- | --- | --- | --- |
| | C222-B | C222-A | C221-A | C221-B | C169-B |
| Serial Name | EverShred | EverShred | EverShred | EverShred | EverShred |
| Cut Type | Micro-Cut | Cross-Cut | Cross-Cut | Micro-Cut | Cross-Cut |
| Shred Ability | CDs/DVDs, Credit Cards, Paper, Clips, Staples | CDs/DVDs, Credit Cards, Paper, Clips, Staples | CDs/DVDs, Credit Cards, Paper, Clips, Staples | CDs/DVDs, Credit Cards, Paper, Clips, Staples | CDs/DVDs, Credit Cards, Paper, Clips, Staples |
| Cut Size | 5/32 x 15/32 inches | 1/6 x 1-7/12 inches | 5/32 x 1-19/50 inches | 5/32 x 15/32 inches | 1/4 x 1-14/25 inches |
| Max Pages Per Load | 16 Pages | 20 Pages | 15 Pages | 12 Pages | 14 Pages |
| Continuous Run Time | 20 Mins | 20 Mins | 10 Mins | 10 Mins | 30 Mins |
| Cool Down Time | 45 Mins | 45 Mins | 45 Mins | 45 Mins | 40 Mins |
| Noise Level | 60 dB | 60 dB | 65 dB | 65 dB | 58 dB |
| Basket Capacity | 6.6 gallons | 6.6 gallons | 5.3 gallons | 5.3 gallons | 4.8 gallons |
| Basket Type | Pull-out | Pull-out | Pull-out | Pull-out | Pull-out |
| Product Dimensions | 375×245×555 mm | 375*245*555 mm | 375*265*510 mm | 375*265*510 mm | 320*242*505 mm |
| Product Weight | 24 lbs | 25.35 lbs | 18.3 lbs | 15.87 lbs | 16.3 lbs |
If you have any questions about our products and services, please email support@bonsaii.com. We will reply within 24 hours!
Customer Reviews
works great
no issues to date, shreds as it should and cost was good
Nice shredder, excellent customer service from Bonsaii
I received this shredder on January 28th 2019. It's definitely better than any of the non commercial shredders I've owned over the years. As a shredder user for 40 years, I'm very careful not to overload it or let it run for extended periods of time (never more than 5 minutes) without a rest. I run a lubricant sheet through it at least once every few months depending on the use. on June 8th, less than 5 months after receiving the unit I experienced my first issue. The automatic shut off stopped functioning and it ran continuously in forward and reverse. There was no paper jam and the teeth were very clean. I tried powering the unit on and off several times using the power switch on the back and also unplugged the unit with no luck. After calling customer support and leaving messages on 2 occasions yesterday, I began to get frustrated. I tried calling again today and was able to speak with a representative. After explaining the issue, the representative said a new unit would be shipped to me within 3 days. All I needed to do was provide my name, address, phone # and amazon order #. I was not happy about the malfunction, but was extremely pleased with the customer service representative who made correcting the issue very simple. This is unusual since most companies will make you jump through hoops to get warranty coverage. I hope that there will be no malfunction with the new unit, which I will be looking forward to receiving. This shredder is stylish, has great wheels, is easy to empty, relatively quiet and perfect for a home office with light to medium daily shredding needs.
Tommy
Should have bought this long time ago, Its pretty awesome.
Great shredder for the price
Quiet, air cooled, large container runs great
Met all expectations... and beyond
I only received this 2 days ago, but have spent most of my time catching up on my "shredding". The machine itself is a real workhorse, and does just as it was advertised to do. A few comments and suggestions: Upon receiving the machine, and the "adequate", but not great manual, I had a question about the assembly, and so called the customer support number, which is prominently shown on the unit itself. They could not have been nicer, and promptly answered my question...so, "great customer support". Now, a suggestion: Amazon sells "Bonsai Shredder Lubricant Sheets", which I highly recommend. Basically, you run a sheet through the shredder, and it lubricates the machine! No mess, no fuss. Finally, when you assemble the machine (which only entails placing the motor on top of the wastebasket and the shell that holds the wastebasket, you must FIRMLY seat the motor onto the shell. If you do not, when you plug in the machine, the "Auto" button will flash. Now, the manual does not tell you why the Auto button would flash, but it is probably because the motor assembly is not FIRMLY set into the shell. Just give it a firm tap, so that there is no space between the motor and the shell. Once you do that, the Auto button will turn a constant blue, and you are ready to go. As mentioned, I have REALLY worked this machine for the past 2 days, and it does everything it should, and is, therefore, highly recommended!