An authentic review from our customer for 4S30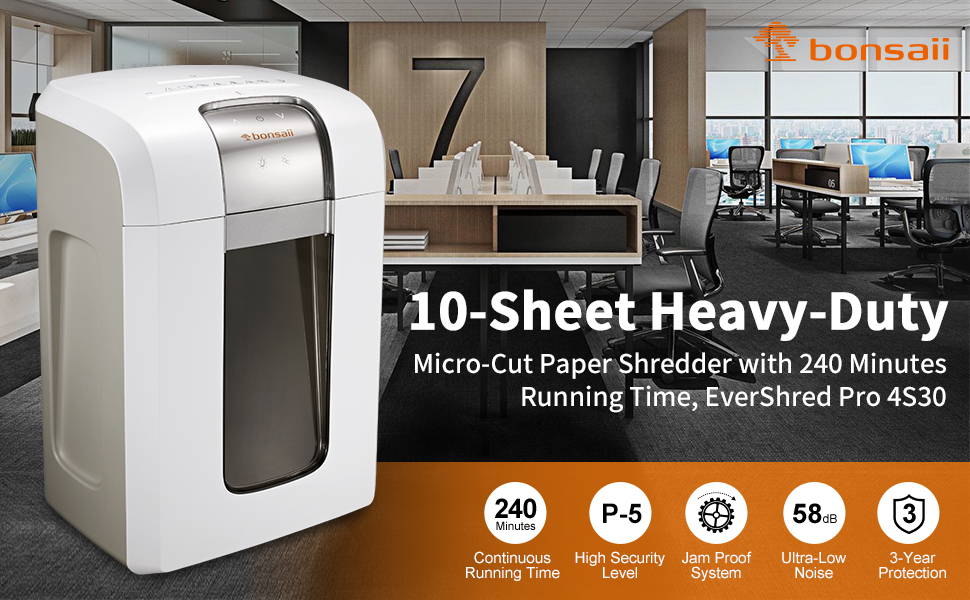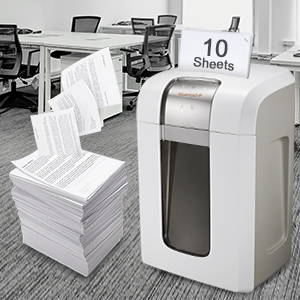 A Powerful Big Office Shredding Beast

10 sheets per pass
Continuously works for up to 240 minutes
Only take 9 minutes to cool down
7.9-gallon + 0.37-gallon two in one design bin
58dB low noise in workplace
P-5 Security Level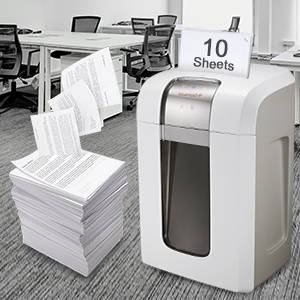 High Efficiency
The maximum shredding capacity of this large office and home shredder is 10 sheets of paper at a single pass, and it can destroy about 16,161 sheets of paper in 240 minutes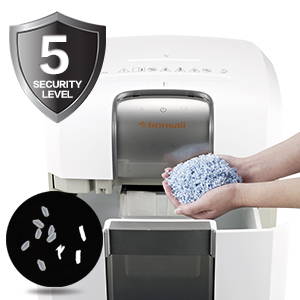 High Security Level
Shreds docuents into small particles measuring 5/64 x 25/64 inches(P-5 high-security level),effective prevention against identity theft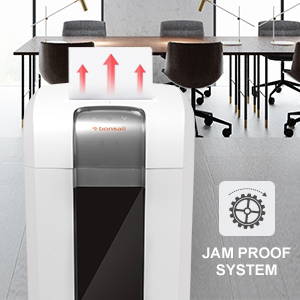 Jam-Proof Design
With auto-start/stop and auto-reverse function, the shredder machine will everse automatically if you put too much paper into the paper slot. It saves you from the frustration of paper jams.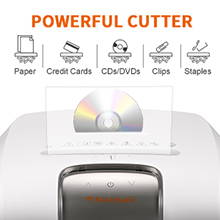 Durable Solid Cutters and Steel Blades
Bonsaii shredders are built to last with solid steel cutters, which can easily destroy paper as well as credit cards, CD/DVD(one piece at a time), clips and staples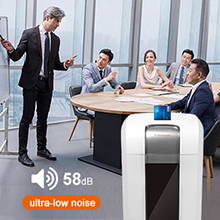 Quiet and Smooth
This shredder runs quietly. Without making noise aroun the office, ensures you a nice working environment while handling the unwanted documents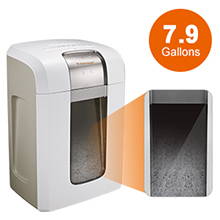 Large bin for more storage
A 7.9-gallon bin for collecting paper shreds, and a separate 0.37-gallon bin for collecting pieces from CD/DVDs, clips and staples.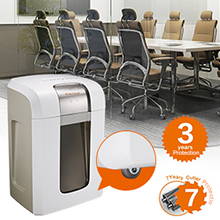 Better Mobility Around Workplace
4 casters with removable design, helps you move and park the shredder machine wherever you want around the workplace
| | | | | | |
| --- | --- | --- | --- | --- | --- |
| | 4S30 | C149-C | 5S30 | 3S23 | 3S30 |
| Serial Name | EverShred | EverShred | EverShred | EverShred | EverShred |
| Cut Type | Micro-Cut | Cross-Cut | Micro-Cut | Cross-Cut | Micro-Cut |
| Shred Ability | CDs/DVDs, Credit Cards, Paper, Staples | CDs/DVDs, Credit Cards, Paper, Staples | CDs/DVDs, Credit Cards, Paper, Staples | CDs/DVDs, Credit Cards, Paper, Staples | CDs/DVDs, Credit Cards, Paper, Staples |
| Cut Size | 5/64 x 25/64 inches | 1/4 x 1-50/87 inches | 1/26 x 5/21 inches | 5/32 x 1-19/50 inches | 5/32 x 1-19/50 inches |
| Max Pages Per Load | 10 Pages | 17-18 Pages | 5 Pages | 14 Pages | 18 Pages |
| Continuous Run Time | 240 Mins | 60 Mins | 240 Mins | 120 Mins | 240 Mins |
| Cool Down Time | 9 Mins | 10 Mins | 9 Mins | 10 Mins | 9 Mins |
| Noise Level | 58 dB | 62 dB | 58 dB | 58 dB | 58 dB |
| Basket Capacity | 7.9-gallon | 6 gallons | 7.9 gallons | 6 gallons | 7.9 gallons |
| Basket Type | Pull-out | Pull-out | Pull-out | Pull-out | Pull-out |
If you have any questions about our products and services, please email support@bonsaii.com. We will reply within 24 hours!
Customer Reviews
07/01/2020
Wayne K.
United States
4S30 10-Sheet Micro-Cut Commercial Shredder
Does an excellent job shredding and is very quiet as noted in specs. Still putting it through its paces to see how well it handles everything. It does shred slower than my previous Fellowes shredder.
05/08/2020
Brenda C.
United States
Works great
We had a ton of things we needed to shred and it was up to the task. Worked great!
03/31/2020
Jamie R.
United States
Silent Wonder
I've only owned my new Bonsaii 4S30 for a month or so, but it quickly surpassed any previous home shredders I've owned. Sleek design, easy use controls, smooth flow, large bin, separate CD collection bin, delivered when promised. Best of all...it's so quiet! My husband no longer has to crank up the volume on the TV when the shredder is running! This product was worth every penny, thank you.
Love this unit
Being someone who is paranoid with PII and HIPAA, I tend to shred and then burn everything that has no reason to be filed. This unit has proven to be amazing to handle shredding jobs at homr with acceptable cut sizes. I would recommend this to anyone looking to shred material at home.
Auto shut off broken
I like the confetti shreds and it is very quiet. I have been using this machine for a little over a year. The auto shut off no longer works. So if you have a delay in shredding for a more than a few seconds, you must manually shut the unit off. This is annoying.
Quiet and Quality Micro P-5 Shredder
I absolutely love this micro shredder. I researched many top quality shredders like Fellowes and the Amazon brands but this by far is the best shredder for the money and for performance. I have used a fellowes before and it has to take a break after 20 mins, this Bonsai shredder can go 60 full minutes before you need to give it a break. It has a 30 mL bucket for shred collection and it has a separate small bucket attachment for CD and credit card collection (see photo, it attaches in the back). I got tired of shredding before the machine did (smile). I purchased the Bonsai oil and oiled shred maintenance sheets as recommended for this shredder. You can use any shred veggie oil but I would recommend buying the products oil to avoid voiding your warranty. The sheets work well and the oil has a spout that reaches down to the blade to keep them running smoothly. So far, no complaints. Great P-5 security level shredder. ( "P" level refers to the level of paper shred the machine will do. The higher the number the smaller the pieces are shredded) See photos of shredding. I highly recommend. Best investment yet. Oh yea, the container is made well and of good quality too. I have read complaints about other shred containers being thin and have cracked after multiple use, this container is on small rollers and it's pretty thick, so I am hopeful it will last.
4S30 is the best shredder I have owned.
This shredder works great and really does a great job micro cutting. The unit ran without overheating for over two hours on a hot summer day (no AC).
Seems to work very well
Wheels are ridiculous. They need to change the wheels for larger wheels, more durable and strong. They do not even rotate and they are tiny for this model and this price. Machine is working very well. Strong motor and works as described. I just wish the wheels were better. It is difficult to move around. But the best shredder I have found for the price. Highly recommended except for the tiny wheels!