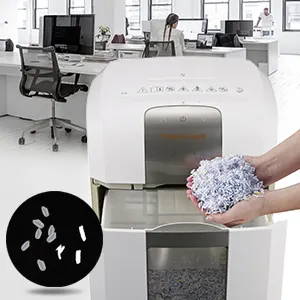 Great Shredding Efficiency
Imagine there are a lot of outdated and unwanted paper works in the office that need to be disposed of. And you don't want to waste time waiting for a shredder with low shredding capacity to cool down as your colleagues just pushed its running time to the limit. Now, with this 60-minute working, 9-minute cool-down shredder, shredding at work will be easier than ever.
60-Minute Continuous Running Time
With a patented cooling system, this micro- cut shredder can keep working for up to 60 minutes, and just takes 9 minutes to recover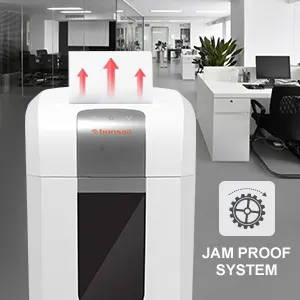 Jam-Free Approved
Auto-start/stop and auto-reverse function, this shredder machine will reverse automatically when a paper-jam occurs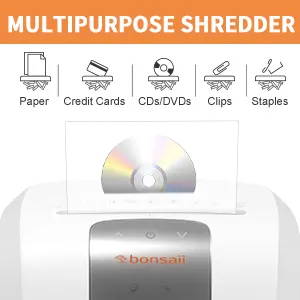 Meet Your Different Needs
Integrated with durable solid cutters blades, this shredder will easily destroy paper as well as credit cards, CD/DVD (one piece at a time), clips and staples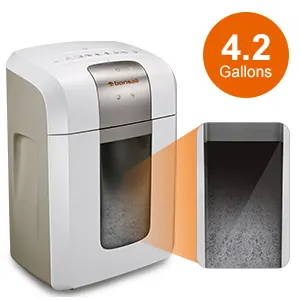 Two In One Bin Design
4.2-gallon pull-out bin for paper shreds with another separated 0.37-gallon bin for collecting CD/DVD and credit card pieces.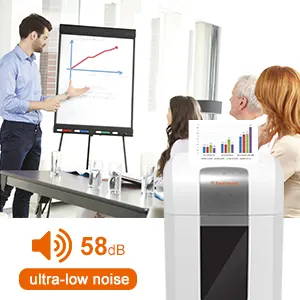 Quiet and Smooth
58 dB ultra-low noise design, no annoyance and disturbing while talking with others at work.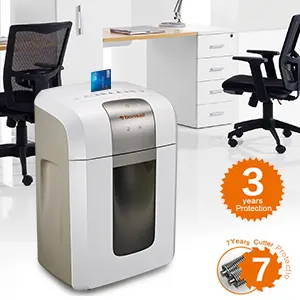 Protect Your Consumer Right
With our 30-day return, 3-year warranty. Bonsaii has always been genuinely committed to providing the best customer service and products to our beloved customers.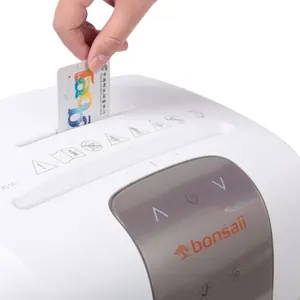 Easy operation
The motor works automatically once the sensor detects your papers or credit cards. Overheating and overloading protection with LED light indicators, more intelligent than ever.
Customer Reviews
08/02/2020
Elizabeth G.
United States
Quiet and efficient shredder
I have had a wonderful experience with the Bonsai shredder. It is a quiet, efficient product that is able to shred several pages at once. The fact that it also shreds Compact Discs is a bonus. I have only owned the shredder for a couple of months and to date would highly recommend the Bonsaii.
04/24/2020
Lynn S.
United States
Answer to the question
Works great thanks
Better than I expected!
Bought this for a large shredding project. Boy does this thing go through the paper! Incredibly quite and fast! At one point I put too much in and true to form, it stopped, backed up the paper and ran it through again. Wonderful! I am impressed with the quality and the workmanship. Only CON, it does produce a LOT of static in the shredding so emptying the basket needs a bag or you should keep a vacuum cleaner handy!
Worth the Money - Stress Free
Great Investment! Low noise, beautiful, and easy to use. When I attempted to buy a cheap shredder, I was told by salespeople in stores to plan on the shredder breaking in a few months. With cheap printers and shredders, you get what you pay for with countless hours resolving issues and frustration. This shredder is high quality and will last without any headaches, unlike the cheaper shredders. I actually shred for stress-reducing impact...it is relaxing!
Painless. Quiet. Effective.
So far, this Just Works™. You feed stuff into the slot, and it gets quietly turned into minuscule shreds. At P-5, this unit hits the sweet spot between security and cost. If you are concerned about computerized de-shredding scanners, stir the shreds before discarding, so that there are numerous documents stirred together. Truly paranoid? Burning not an option? Dump the shreds into a bucket, add water and a little enzyme "drain buildup remover", and use a drill-mounted paint mixer (from your local home center) to blend your shreds into mush, then discard at will. Mush like that can, with reasonable care, be flushed down a toilet. For that matter, so can the shreds, if you take your time. The longer you let the mush stand, the more the paper will break down, and the more impossible de-shredding will become. Paranoid Hint: most communities that do not allow trash burning still allow outside "decorative" fire-pits. What a country!
Rated for 6 pages, prefers 3. Still the best thing EVER!
We shredded all day. Taxes back to 1995. Medical receipts. Immigration stuff. Took 13 bins of 'kitty littler' out to our wheeled recycle bin. What an improvement over the last shredder! It never once stopped form over-work. It didn't like more than four pages though, even though the one we bought is rated for six. Three was even better. Still, don't mind doing just three if I don't have to stop all the time and pick bits out of the works. Wow. I had no idea such a machine was out there!
Quiet Grinder
This shredder is fast enough for home use and very quiet. The only disappointment was that it had no separate bin for catching the pieces from CD/DVDs or credit cards, as the description said. Here is a quotation: "4.2 gallons large pull-out wastebasket capacity for easy emptying, a 0.37 gallons separate small bin for CD/DVD and credit card pieces collection." We will use it by running the plastic stuff into the bin when it is empty. This missing feature cost it the fifth star. I wrote to Bonsaii's customer service group and they responded as I would expect a a good organization to respond. I now have the CD/DVD bin and it all works fine. I would recommend this shredder to anyone who cares about security. Also, I have awarded the fifth star.
| | | | | | |
| --- | --- | --- | --- | --- | --- |
| | 4S16 | C149-C | 3S16 | 3S23 | 4S30 |
| Serial Name | EverShred | EverShred | EverShred | EverShred | EverShred |
| Cut Type | Micro-Cut | Cross-Cut | Cross-Cut | Cross-Cut | Micro-Cut |
| Shred Ability | CDs/DVDs, Credit Cards, Paper, Staples | CDs/DVDs, Credit Cards, Paper, Staples | CDs/DVDs, Credit Cards, Paper, Staples | CDs/DVDs, Credit Cards, Paper, Staples | CDs/DVDs, Credit Cards, Paper, Staples |
| Cut Size | 5/64 x 25/64 inches | 1/4 x 1-50/87 inches | 5/32 x 1-19/50 inches | 5/32 x 1-19/50 inches | 5/64 x 25/64 inches |
| Max Pages Per Load | 6 Pages | 17-18 Pages | 12 Pages | 14 Pages | 10 Pages |
| Continuous Run Time | 60 Mins | 60 Mins | 60 Mins | 120 Mins | 240 Mins |
| Cool Down Time | 10 Mins | 10 Mins | 9 Mins | 10 Mins | 10 Mins |
| Noise Level | 58 dB | 62 dB | 58 dB | 58 dB | 58 dB |
| Basket Capacity | 4.2 gallons | 6 gallons | 4.2 gallons | 6 gallons | 7.9 gallons |
| Basket Type | Pull-out | Pull-out | Pull-out | Pull-out | Pull-out |
If you have any questions about our products and services, please email support@bonsaii.com. We will reply within 24 hours!