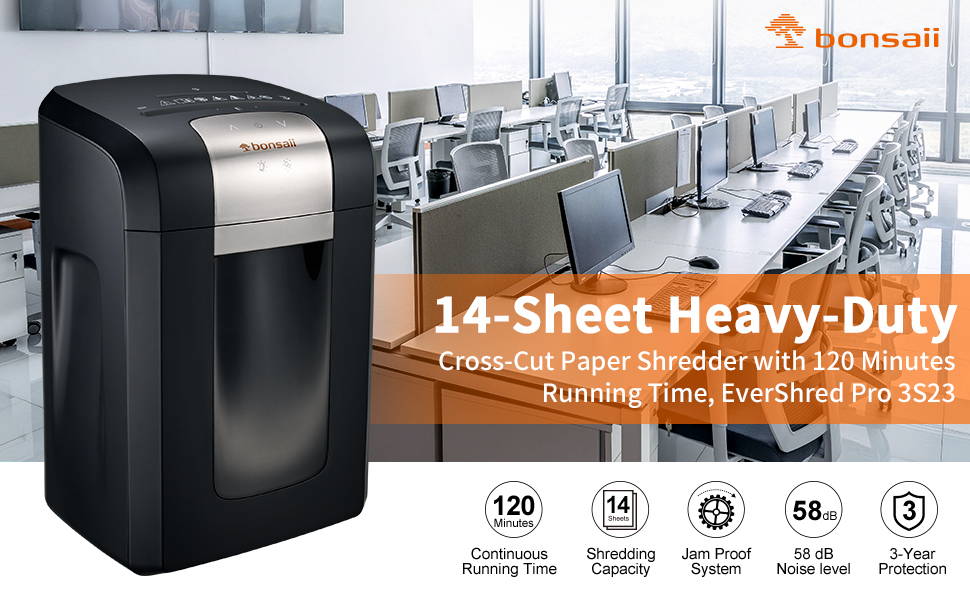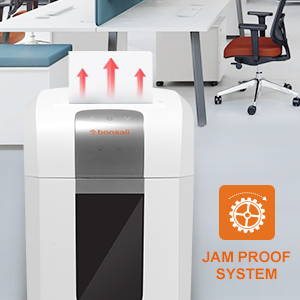 Practical Jam-Proof System
Designed with Auto-start and manual-reverse to clear paper jams, if you put too much paper into the paper slot, you can just switch the REV manually to easily clear out the jams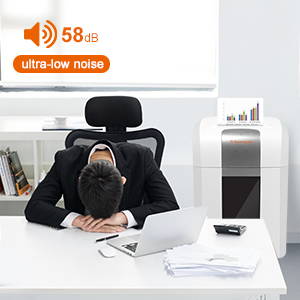 58 dB ultra-low noise operation of this heavy-duty shredder machine provides you a quiet and comfortable office while working, no worry to disturb others' work or meeting.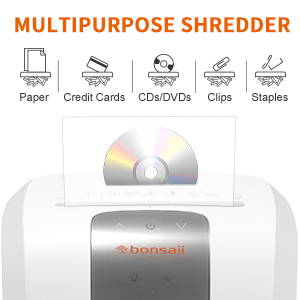 Strong Shredding Capability
Equipped with durable solid cutters and professional steel blades, the shredder will easily destroy paper as well as credit cards, CD/DVD (one piece at a time), clips and staples to keep your different types of confidential information safe.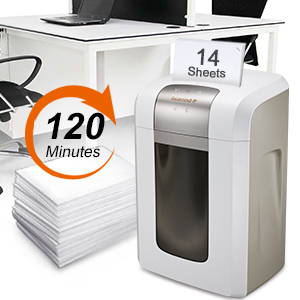 Highly-Efficieent and Time-Saving
The maximum shredding capacity with high-security of this large office and home shredder is 14 sheets of paper at a single pass and about 11,300 sheets of paper will be destroyed within it rated 120 minutes continuous working time.

| | | | | | |
| --- | --- | --- | --- | --- | --- |
| | C149-C | C149-D | C169-B | 3S23 | 4S30 |
| Serial Name | EverShred | EverShred | EverShred | EverShred | EverShred |
| Cut Type | Cross-Cut | Micro-Cut | Cross-Cut | Cross-Cut | Micro-Cut |
| Shred Ability | CDs/DVDs, Credit Cards, Paper, Clips, Staples | CDs/DVDs, Credit Cards, Paper, Clips, Staples | CDs/DVDs, Credit Cards, Paper, Clips, Staples | CDs/DVDs, Credit Cards, Paper, Clips, Staples | CDs/DVDs, Credit Cards, Paper, Clips, Staples |
| Cut Size | 1/4 x 1-50/87 inches | 5/32 x 2/5 inches | 1/4 x 1-14/25 inches | 5/32 x 1-19/50 inches | 5/64 x 25/64 inches |
| Max Pages Per Load | 18 Pages | 12 Pages | 14 Pages | 14 Pages | 10 Pages |
| Continuous Run Time | 60 Mins | 60 Mins | 30 Mins | 120 Mins | 240 Mins |
| Cool Down Time | 10 Mins | 10 Mins | 10 Mins | 10 Mins | 10 Mins |
| Noise Level | 62 dB | 62 dB | 58 dB | 58 dB | 58 dB |
| Basket Capacity | 6 gallons | 6 gallons | 4.5 gallons | 6 gallons | 7.9 gallons |
| Basket Type | Pull-out | Pull-out | Pull-out | Pull-out | Pull-out |
| Product Dimensions | 360×285×545 mm | 360*285*545 mm | 320*242*505 mm | 367*283*568 mm | 410*320*624 mm |
| Product Weight | 23.59 lbs | 23.59 lbs kg | 16.31 lbs | 26.46 lbs | 39.68 lbs |
If you have any questions about our products and services, please email support@bonsaii.com. We will reply within 24 hours!
Customer Reviews
05/09/2020
Jack S.
United States
Excellent shredder
One of the best shredders, and any of the bonsaii shredders are worth it! A cooling fan makes a huge difference, and for some so does the tank capacity. So think about that.
04/07/2020
Charlotte D.
United States
Bonsais 3s23 14-Sheet Cross Cut Paper Shredder
I love my new Bonsaii paper shredder . It is so quiet compared to my old one and shreds faster and better . This one is supposed to run 2 hours and I've yet to do that although it's nice to I can . My other one only ran 30 minutes and it'd stop and be a long time before I could run it again . Very frustrating! I would recommend this.
Performed as advertised
This product performs as advertised.
Best feature is it eats thick paper stacks or whole junk mail as advertised.
Has some good features, some that could be improved. What to like: it eats up to 12-13 sheets ordinary thickness paper. It will eat smaller staples which is nice. It will run as advertised without overheating. It is in standby so all I have to do is drop a sheet in and it will go auto-shred. No on/off switch required. The catch bucket pulls out on wheels like a file cabinet drawer, but will come out all the way. The catch bucket needs a re-think. You CANT put a plastic liner in it. It has protrusions on the inside that will catch any liner so you have to pull the bucket out and dump it into something else. You can shred CDs etc and they will catch into a smaller bucket that hooks or hangs inside the bigger one and not mingle into the paper. You don't want to leave it in there all the time because it gets in the way of the regular shredding. So I had so find a place to store that piece when it is not in use. I still like the unit because it is pretty much commercial grade middle of the pack so around the house or home business it will get the job done.
Works fine!
For the first time, I am able to take those darn AARP mail adds and shred them without opening them first! It is so much quieter than my last shredder it's unbelievable!! We are very happy!!!
Needs Bin Full Shutoff.
Liked the value and sound decibels. Needs a shut off to remind you not to overfill the basket. Returned 1st unit because it filled up and stuck in feeder shoot. Resulting in narrowing amounts of paper it will feed. They sent another and both units performed well. But, DO Not overfill it! Sounds easy but with our office having customer files from 1997, with Tons of paper... shred, shed, shred.
Love it!
This shredder is great for our small office. The only reason i gave it 4 stars is because the "teeth" are hard to get to if you have a jam. This may actually be a safety feature. The first one I ordered had problems. After brief troubleshooting with the company they promptly sent me a new. Very happy with this purchase.
Quiet, Quick, and Effective!
This shredder is SO quiet. Not at all like our previous one, and it does not interfere with other office workers or phone calls. Just thought the bin was a bit bigger. Perfect for home office use!