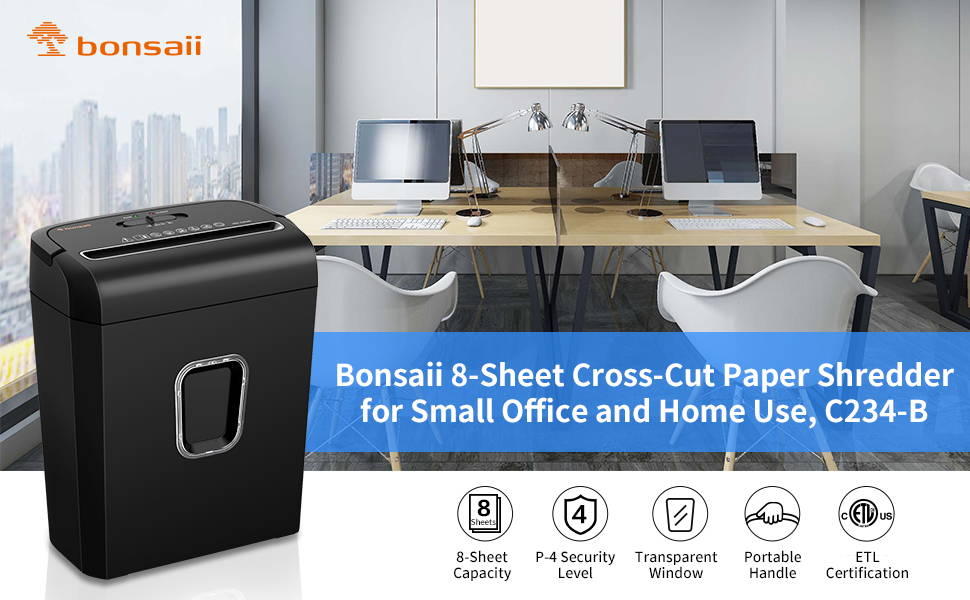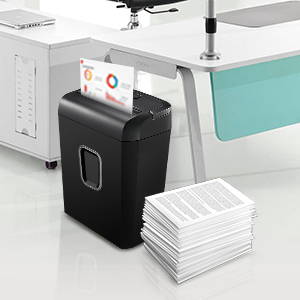 Efficienct and Time-Saving
This Bonsaii C234-B Shredder is designed to meet your shredding needs at a small office or home. It is perfect for personal use. It reaches P-4 security level, able to shred 8 sheets of paper in one sitting. A special design of this one is the foldable handle on its lid. If you are going to empty the bin, you just need to lift the lid, and then do your emptying. This way, you will take less chance of shreds messing around.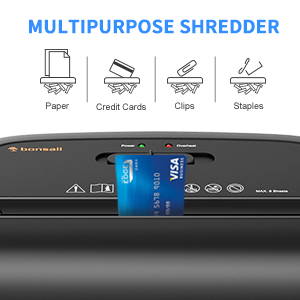 Durable Cutters And Steel Blades
This shredder has durable solid cutters and sharp steel blades that can easily destroy paper as well as credit cards, clips and staples.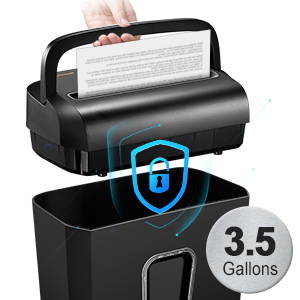 Easy And Safe Operation
This shredder works automatically once its sensor detects something is being inserted into the paper entry. For safety concern, this paper shredder will stop working once you lift the lid.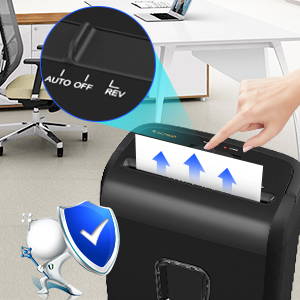 Overheating And Overloading Protection
The LED indicators will blink to warn the machine is overheating if it keeps running for a longer time than recommended. If a paper jam occurs, press the REV button to clear it out.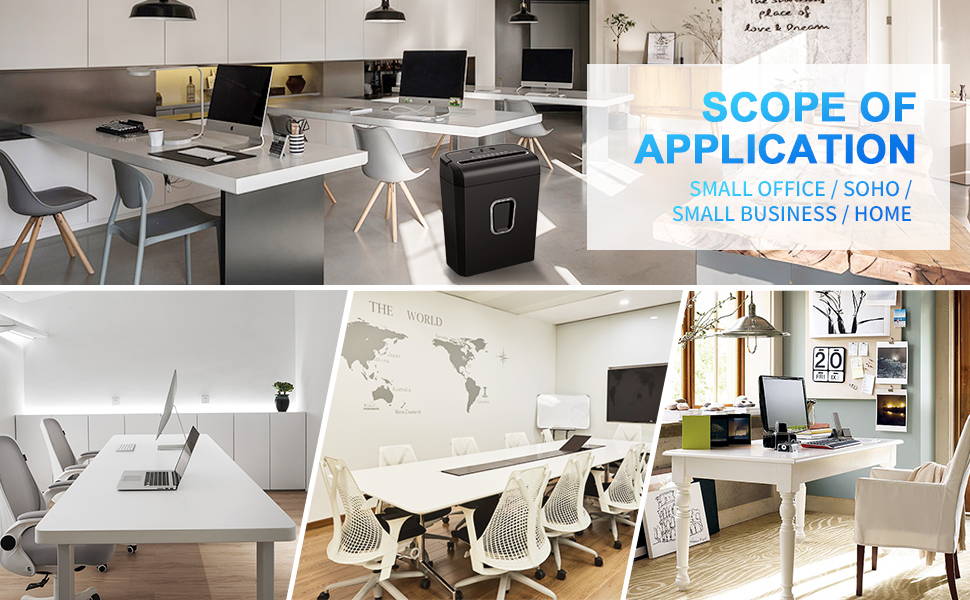 | | | | | | |
| --- | --- | --- | --- | --- | --- |
| | C234-B | C560-D | C204-C | C234-A | C209-D |
| Serial Name | EverShred | EverShred | EverShred | EverShred | EverShred |
| Cut Type | Micro-Cut | Micro-Cut | Cross-Cut | Micro-Cut | Cross-Cut |
| Shred Ability | Credit Cards, Paper, Clips, Staples | Credit Cards, Paper, Clips, Staples | Credit Cards, Paper, Clips, Staples | Credit Cards, Paper, Staples | Credit Cards, Paper, Clips, Staples |
| Cut Size | 1/5 x 18/25 inches | 5/32 x 15/32 inches | 5/32 x 1-25/32 inches | 5/32 x 15/32 inches | 1/5 x 1-25/32 inches |
| Max Pages Per Load | 8 Pages | 6 Pages | 6 Pages | 6 Pages | 10 Pages |
| Continuous Run Time | 4 Mins | 4 Mins | 4 Mins | 4 Mins | 4 Mins |
| Cool Down Time | 40 Mins | 40 Mins | 40 Mins | 40 Mins | 40 Mins |
| Noise Level | 70 dB | 72 dB | 70 dB | 70 dB | 70 dB |
| Basket Capacity | 3.5 gallons | 4 gallons | 3.5 gallons | 3.5 gallons | 3.5 gallons |
| Basket Type | Lift-up | Lift-up | Lift-up | Lift-up | Lift-up |
| Product Dimensions | 300×180×367 mm | 316*185*400 mm | 302*187*387 mm | 300*180*367 mm | 321*201*470 mm |
| Product Weight | 8.6 lbs | 8.6 lbs | 7.5 lbs | 8.6 lbs | 10.36 lbs |
If you have any questions about our products and services, please email support@bonsaii.com. We will reply within 24 hours!
Customer Reviews
Sturdy
Used this the day it arrived. I had so many documents to shred. It surprisingly didnt heat up. It shredded all my docs with ease. I lubricated halfway with some lubricating sheets. This was easy to set up and easy to use. Plus, wow what a great deal. If you need a powerful little shredder, this is the one to get.
small but mighty
this is perfect for me, I am retired and really don't have too much paper work to dispose of but what I do have has personal information that I really don't want to just toss into the recycle bin. the shredder arrived in two days and I have been happily shredding since. the shredder is a little smaller than I expected it to be but it is adequate for my needs.
Gets the job done
I have been shredding years of bills that have been filed away because someone, somewhere along the way, told me I should keep them for ??? years. It is enjoyable ridding my files of all that unnecessary clutter. The shredder shut down once when it needed a rest, but in a short while it was ready to shred again. I am very pleased with this purchase.
Works Perfectly for Home Office
This shredder works perfectly and does the job for a home setting. It's easy to use and clean. It can eat up credit cards and thick paper easily. I use it primarily for mail and documents, but only do a few sheets at a time to prevent overheating. I have used it continuously for about 15 minutes with a couple second breaks in between and didn't have any issues of overheating. It fills up relatively quickly, but I got the size I can paid for. I make sure to oil the blades with a shredder performance oil every once in a while to keep it running strong.
Would definitely recommend
I can't believe I bought this two years ago in 2017 and it still working and cuts beautifully .... I don't remember if I already did a review or not but this unit is definitely worth the money and made well...
Solid Shredder
I was initially skeptical of this item after I realized it did not have a slide out compartment. You must lift the fairly heavy lid to empty the trash. After using the shredder I decided that was not a huge issue. I was able to shred thick documents with no jams or over heating. I think this is a solid shredder for the home office.
The Best!
I love this little shredder! It works so well, it's light weight, so easy to use, easy to clean. Perfect size, not too big or small. I used this for an hour straight and it did not overheat and worked perfectly the whole time. It's also fun to use, especially shredding cards! Just be sure to follow the guidelines and this should last a long time. So glad I finally got a shredder that meets my needs totally.
Excellent, small and affordable shredder
The 8-sheet shredder is powerful and well made and perfectly complements a small or home office environment. Controls are simple and easy to use. I replaced my $200 Fellowes shredder with this $49.99 Bonsaii shredder and I wasn't disappointed. The collection bin is half the size of my old shredder but I knew it's capacity before I bought it. This just means that I will have to empty the shredder more than I did before. This is one reason why it probably wouldn't work well in a large office environment. I haven't tried more than 8 sheets of standard copy paper but why risk a jam. I generally limit my shreds to 4 / 5 pieces of paper at a time and this shredder eats them up.