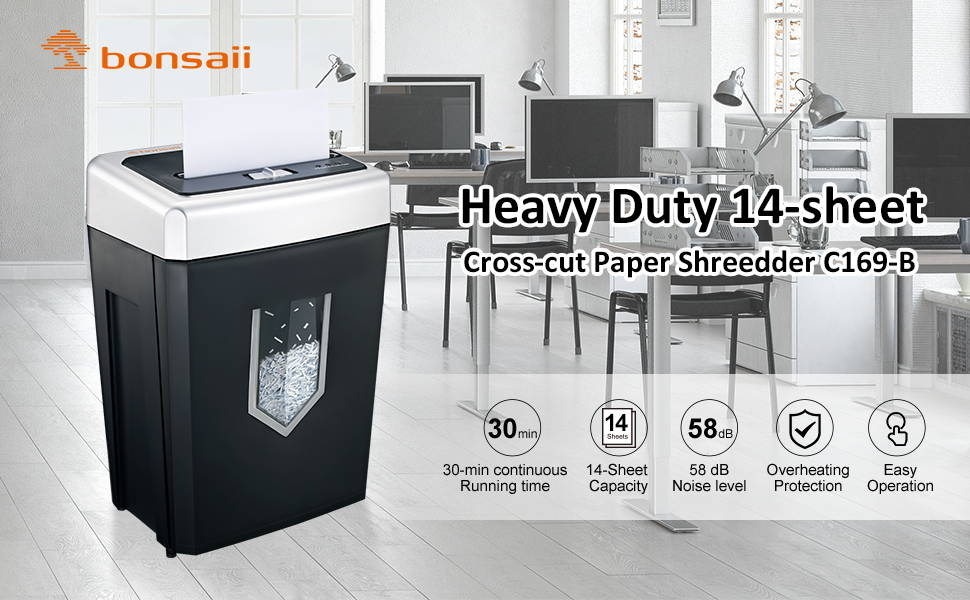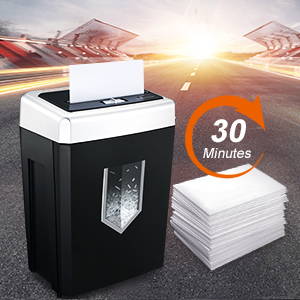 Bonsaii Patented Cooling System
With the Bonsaii patented cooling system, this cross-cut shredder can shred up to 30 minutes continuously with 3500 sheets of paper being destroyed. No concern of overheating!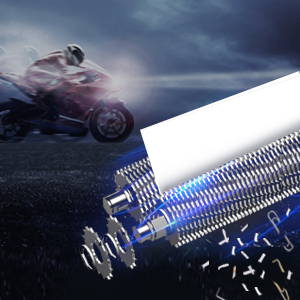 Strog Cutters
This shredder has durable solid cutters that can easily destroy paper as well as credit cards, clips,CDs,DVDs and staples to keep your different types of confidential information safe.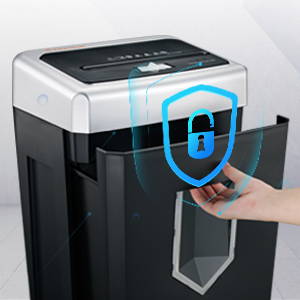 Easy And Safe Operation
The machine will run automatically when its sensor detects papers going into the paper feed. For safe concern, this paper shredder will stop working once you pull out the bin.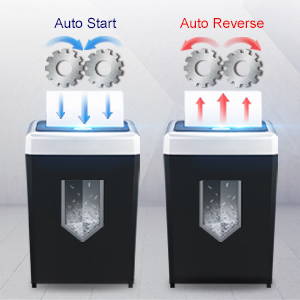 No Paper-Jam
With auto-start and auto-reverse function, the paper will be reversed back out automatically if you shred too much papers in one sitting. No frustration of paper jams anymore.
| | | | | | |
| --- | --- | --- | --- | --- | --- |
| | C169-B | C222-A | C222-B | C221-A | C221-B |
| Serial Name | EverShred | EverShred | EverShred | EverShred | EverShred |
| Cut Type | Cross-Cut | Cross-Cut | Micro-Cut | Cross-Cut | Micro-Cut |
| Shred Ability | CDs/DVDs, Credit Cards, Paper, Clips, Staples | CDs/DVDs, Credit Cards, Paper, Clips, Staples | CDs/DVDs, Credit Cards, Paper, Clips, Staples | CDs/DVDs, Credit Cards, Paper, Clips, Staples | CDs/DVDs, Credit Cards, Paper, Clips, Staples |
| Cut Size | 1/4 x 1-14/25 inches | 1/6 x 1-7/12 inches | 5/32 x 15/32 inches | 5/32 x 1-19/50 inches | 5/32 x 15/32 inches |
| Max Pages Per Load | 14 Pages | 20 Pages | 16 Pages | 15 Pages | 12 Pages |
| Continuous Run Time | 30 Mins | 20 Mins | 20 Mins | 10 Mins | 10 Mins |
| Cool Down Time | 40 Mins | 45 Mins | 45 Mins | 45 Mins | 45 Mins |
| Noise Level | 58 dB | 60 dB | 60 dB | 65 dB | 65 dB |
| Basket Capacity | 4.8 gallons | 6.6 gallons | 6.6 gallons | 5.3 gallons | 5.3 gallons |
| Basket Type | Pull-out | Pull-out | Pull-out | Pull-out | Pull-out |
| Product Dimensions | 320×242×505 mm | 375*245*555 mm | 375*245*555 mm | 375*265*510 mm | 375*265*510 mm |
| Product Weight | 7.4 kg | 11.5 kg | 10.9 kg | 8.3 kg | 7.2 kg |
If you have any questions about our products and services, please email support@bonsaii.com. We will reply within 24 hours!
Customer Reviews
05/23/2020
Evan S.
United States
Bonsaii C169-B 14-Sheet Cross-Cut Shredder
Performs as advertised. The only negative is the sensor that determines when a piece of paper is inserted. After a few minutes of shredding that sensor apparently becomes covered with "paper dust" so in AUTO mode the shredder does not turn off. It keeps running until you turn the shredder off. The next time you turn it on, it keeps on running. I've complained to customer service, but so far nothing has been done. It's very annoying to say the least!
01/19/2020
Michael R.
United States
Great Shredder
This shredder did everything that I expected of it, for a long time shredding without needing a rest. The pieces are quite small and I am not at all concerned about someone being able to reassemble them. It cut up old credit cards quite well. I use it for home use.
easy to use but noisy
This shredder is very easy to use; papers load easily. And it seems to do a good job of shredding. I just wish it were quieter and didn't keep going so long after the paper is gone. It's fine to do a thorough job and clear the blades of paper, but it goes on about five seconds longer than it needs to. When it's as loud as it is, that's annoying.
get what you pay for
I would get this again as I need a heavy duty shredder it seems to be working fine for that job. IT WILL NOT CUT 14 sheets info indicates. it struggles with just 12-13 sheets.
Great, quiet shredder!!
This shredder is one of the quietest shredders I have ever used. The shredder handles its 14 paper max with ease and I have not encountered any jams while using it, even when shredding 8-10 sheets of thick stock paper. The cross cut is not as fine as some other shredders I have used, but it is fine for my home use. And the best thing about the shredder is how quiet it is, you hear a slight whine from the motors, but the loudest thing while using this shredder is the sound of the blades cutting into the paper which is not loud at all. I would definitely recommend this to anyone using this for any non commercial purposes
Best shredder for the home or small office.
This is the 5th paper shredder I've owned. It is also the best. It truly shreds 10 sheets of paper at once and dices them into inch-long bits. It has a long run time, in fact I've never overheated it. It's simple to operate and easy to empty. I would not have it plugged in around small children, but that's probably a good idea with all shredders. I like this one so much that I bought an identical model to give someone as a gift. The shredder is not the fastest I've used, but because it eats 10 pages at a time without jamming, it's the most reliable one I've used.
Great unit! Worth taking the time to write a review, it's that good.
Really? I'm pausing my shredding to go to my computer to write a review? Well, this unit is impressing me that much. I've replaced a Fellowes DS-3 shredder, which is a similar size. The DS-3 broke when one of the plastic gears in the drive train shed a gear -- a tiny piece of plastic snaps and the whole thing goes in the trash. I hate that. But seizing an opportunity to get a better shredder, I researched quite a bit and selected this Bonsaii. The features I liked in the listing were its 14 sheet capacity (the DS-3 claimed 10 sheets, but no way) and its quieter operation. My wife really hated the sound of the DS-3, so that appealed. It arrived fast, I plugged it in. Bright red LED, I'm going to have that on all the time? May have to put some electrical tape over it. I put my first sheet in to test it. It's indeed quieter than the DS-3. But...slower. Hmm. Maybe only two thirds as fast pulling the paper through the drivetrain. Perhaps my throughput will be the same because I can put more sheets at a time through it? I was skeptical. Well today I gave it its first big run. This little guy seems unstoppable. Yes, it feeds in a slow and stately manner, but it doesn't slow down when you feed it more than a few sheets (the Fellowes was always straining), it just maintains its constant speed. I shoved 15 sheets into it, and it took it like a champ, without breaking much of a sweat. 15 sheets is a good handful of paper. So I've been feeding it gobs of paper, not even counting, probably over the 14 page limit from time to time, and it just nonchalantly plows through it all, no worries at all. With the Fellowes, it was always suspenseful -- it's choking, will it make it through? Will I have to pull the paper back out? Did I jam it again? Whew... Repeat. Little drama queen, that Fellowes. Anyway, when the bin on the Bonsaii filled up I slid out the drawer (mashed the shreds down a bit, and got a bunch more papers through before I HAD to dump it) and took it out to the bin without leaving a mess of paper leavings on the office floor. With the Fellowes I had to pick up the entire top part, invariably leaving paper dangling, and set it on the floor, paper dust going everywhere, to dump the bucket. So this new design will work much better for me, though I can imagine difficulties if I overfill it with shreds, since pulling out a tray when the paper shreds are stacked higher than the top of the door will probably scrape a pile of paper shreds into the inside of the machine. Will have to see. But all in all, I'm very pleased with this purchase. Strong, steady, not jamming (yet), I haven't tried abusing it (shoving in ten sheets cockeyed so they buckle and bend) but I'm sure that'll happen. If anything untoward happens, I'll update this review. But very pleased so far.
Really great little shredder
Really great little shredder. We use it for a sm-med sized contracting business and shred paperwork daily, but not a whole lot of it. This guy has kept up quite nicely for the past month-ish and is fairly quiet. It sits less than 2 feet from my desk and I have no issues if it's used and I'm on the phone, or whatnot. I do like the drawer pull-out feature to empty the container a lot vs. taking the lid off and having to dump it. It seems silly not to have it the other way...with the drawer, the actually shredder components stay right where they are. You are just moving the basket to empty and bringing it back to the shredder! Our old one I had to remove the top and get all the string-ys out and find a place to safely "rest" it while I took the basket to be dumped. And it NEVER failed that when I put the shredder top back on, there was always a mess wherever I had let is sit! Ugh! Not anymore! I didn't even know how annoying that was until I didn't have to do it anymore! So, my best suggestion is, if you are looking at medium-sized shredders and they don't have a "drawer" basket that pulls out - maybe reconsider and look at this one.