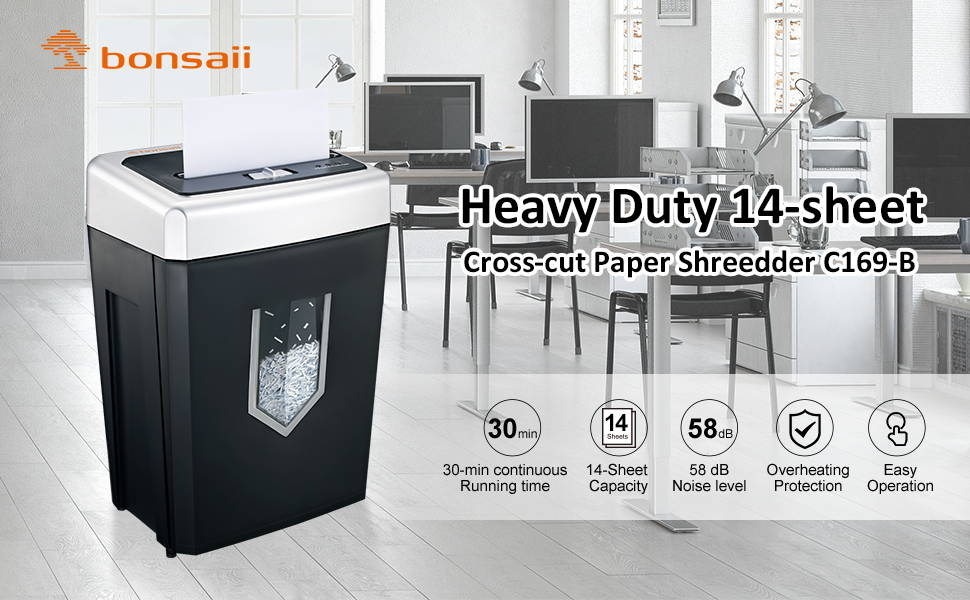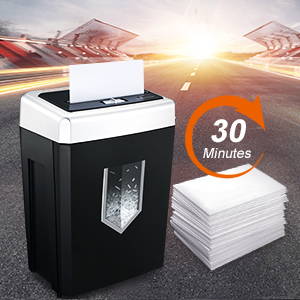 Bonsaii Patented Cooling System
With the Bonsaii patented cooling system, this cross-cut shredder can shred up to 30 minutes continuously with 3500 sheets of paper being destroyed. No concern of overheating!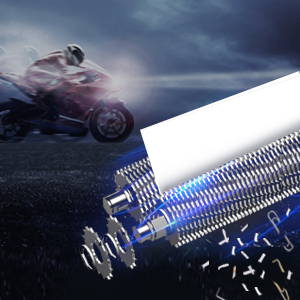 Strog Cutters
This shredder has durable solid cutters that can easily destroy paper as well as credit cards, clips,CDs,DVDs and staples to keep your different types of confidential information safe.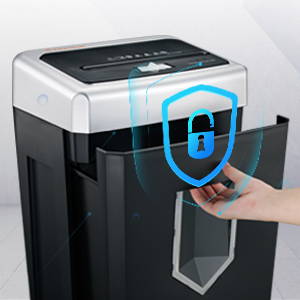 Easy And Safe Operation
The machine will run automatically when its sensor detects papers going into the paper feed. For safe concern, this paper shredder will stop working once you pull out the bin.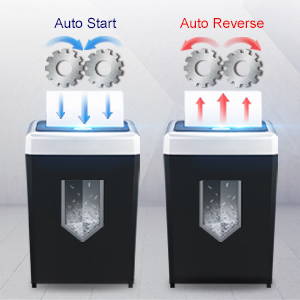 No Paper-Jam
With auto-start and auto-reverse function, the paper will be reversed back out automatically if you shred too much papers in one sitting. No frustration of paper jams anymore.
| | | | | | |
| --- | --- | --- | --- | --- | --- |
| | C169-B | C222-A | C222-B | C221-A | C221-B |
| Serial Name | EverShred | EverShred | EverShred | EverShred | EverShred |
| Cut Type | Cross-Cut | Cross-Cut | Micro-Cut | Cross-Cut | Micro-Cut |
| Shred Ability | CDs/DVDs, Credit Cards, Paper, Clips, Staples | CDs/DVDs, Credit Cards, Paper, Clips, Staples | CDs/DVDs, Credit Cards, Paper, Clips, Staples | CDs/DVDs, Credit Cards, Paper, Clips, Staples | CDs/DVDs, Credit Cards, Paper, Clips, Staples |
| Cut Size | 1/4 x 1-14/25 inches | 1/6 x 1-7/12 inches | 5/32 x 15/32 inches | 5/32 x 1-19/50 inches | 5/32 x 15/32 inches |
| Max Pages Per Load | 14 Pages | 20 Pages | 16 Pages | 15 Pages | 12 Pages |
| Continuous Run Time | 30 Mins | 20 Mins | 20 Mins | 10 Mins | 10 Mins |
| Cool Down Time | 40 Mins | 45 Mins | 45 Mins | 45 Mins | 45 Mins |
| Noise Level | 58 dB | 60 dB | 60 dB | 65 dB | 65 dB |
| Basket Capacity | 4.8 gallons | 6.6 gallons | 6.6 gallons | 5.3 gallons | 5.3 gallons |
| Basket Type | Pull-out | Pull-out | Pull-out | Pull-out | Pull-out |
| Product Dimensions | 320×242×505 mm | 375*245*555 mm | 375*245*555 mm | 375*265*510 mm | 375*265*510 mm |
| Product Weight | 7.4 kg | 11.5 kg | 10.9 kg | 8.3 kg | 7.2 kg |
If you have any questions about our products and services, please email support@bonsaii.com. We will reply within 24 hours!
Customer Reviews
Great value for what I paid
This shredder is a work horse. Easily turns all my papers into unreadable tiny particles. I put it under my desk so everytime I have to scoot it out to shred. I wish it has a side handle so this will be much easier.
07/01/2020
Kaleema A.
United States
Received a used shredder w/ paper shreds inside, fingerprints & scratches.
I am very disappointed & dissatisfied with my Order that I received on May 26, 2020. I received a USED Bonsaii shredded from AMAZON PRIME. I did not place my order with AMAZON I placed my order with Bonsaii.com & PAID Bonsaii $123.50. PLEASE SEND THE BONSAII SHREDDER C-169 B IN BRAND NEW CONDITION ASAP.
Very quiet and worth the cost!
We had to buy this because we killed our other one shedding a metal credit card. We were not aware it was metal until it was too late. We spent the extra money because I now work from home so do a lot more shredding. So far so good and love that is a lot quieter that my last one.
Best personal shredder!
I had five years worth of bills, receipts, and other things I needed to shred. This did the job without a hiccup. I didn't have to stop at the 30 minutes duty cycle it said it had. I got tired of keep shredding, and the machine kept runing with no any issues.
01/18/2020
Michael R.
United States
Great Shredder
This shredder did everything that I expected of it, for a long time shredding without needing a rest. The pieces are quite small and I am not at all concerned about someone being able to reassemble them. It cut up old credit cards quite well. I use it for home use.
get what you pay for
I would get this again as I need a heavy duty shredder it seems to be working fine for that job. IT WILL NOT CUT 14 sheets info indicates. it struggles with just 12-13 sheets.
Great, quiet shredder!!
This shredder is one of the quietest shredders I have ever used. The shredder handles its 14 paper max with ease and I have not encountered any jams while using it, even when shredding 8-10 sheets of thick stock paper. The cross cut is not as fine as some other shredders I have used, but it is fine for my home use. And the best thing about the shredder is how quiet it is, you hear a slight whine from the motors, but the loudest thing while using this shredder is the sound of the blades cutting into the paper which is not loud at all. I would definitely recommend this to anyone using this for any non commercial purposes
Best shredder for the home or small office.
This is the 5th paper shredder I've owned. It is also the best. It truly shreds 10 sheets of paper at once and dices them into inch-long bits. It has a long run time, in fact I've never overheated it. It's simple to operate and easy to empty. I would not have it plugged in around small children, but that's probably a good idea with all shredders. I like this one so much that I bought an identical model to give someone as a gift. The shredder is not the fastest I've used, but because it eats 10 pages at a time without jamming, it's the most reliable one I've used.