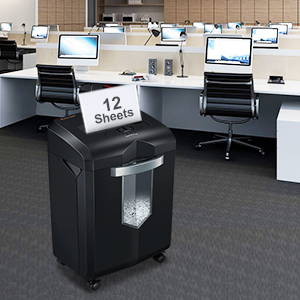 Able to destroy 12 sheets of paper in one sitting with a 60-minute continuous run time, easily handle the shredding needs of an office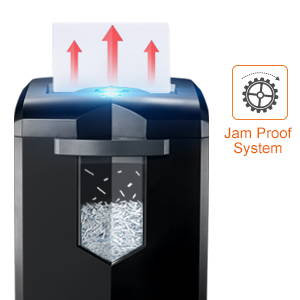 Super Jam-Proof System
With auto-start/stop and auto-reverse function, the shredder machine will reverse automatically if you put too much paper into the paper slot, so no frustration of paper jams.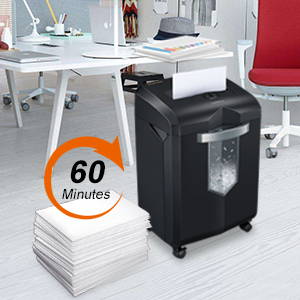 60-Minute Continuous Running Time
With Bonsaii patented cooling system, this micro-cut paper shredder can keep working for up to 60 minutes and just need 10 minutes to cool down, 3900 sheets of paper will be destroyed within 60 minutes, perfect for an office and home use.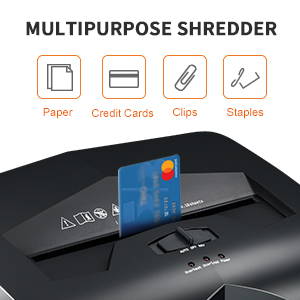 Meets your different shredding needs
this shredder will easily destroy paper as well as credit cards, clips and staples to keep your different types of confidential information safe.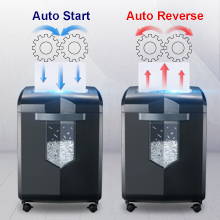 Auto-Start and Auto-Reverse
Designed with AUTO technology,the motor works, stops and reverses automatically, frees your hands by easy and intelligent operation, helps you clean the paper jams easily.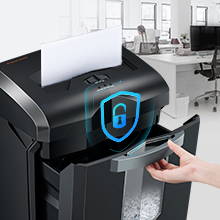 Safety Design and 6-gallon Bin
A 6-gallon bin with large transparent window makes it easy to see when the wastebasket is full and to empty. For safety concern, the shredder will stop working once you pull out the bin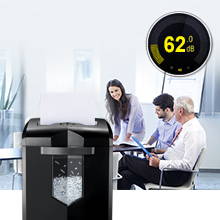 Quiet Operation
The working noise level od this shredder is 62dB, which is ultra-low noise for your meeting room and office, no need to worry about disturbing others.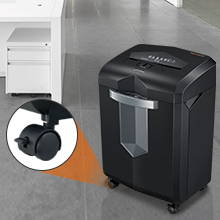 Convenient Wheel-Design
Equipped with 4 removable universal casters and lockable front wheels helping you move and park the shredder machine conveniently.
| | | | | | |
| --- | --- | --- | --- | --- | --- |
| | C149-C | C149-D | C169-B | 3S23 | 4S30 |
| Serial Name | EverShred | EverShred | EverShred | EverShred | EverShred |
| Cut Type | Cross-Cut | Micro-Cut | Cross-Cut | Cross-Cut | Micro-Cut |
| Shred Ability | CDs/DVDs, Credit Cards, Paper, Clips, Staples | CDs/DVDs, Credit Cards, Paper, Clips, Staples | CDs/DVDs, Credit Cards, Paper, Clips, Staples | CDs/DVDs, Credit Cards, Paper, Clips, Staples | CDs/DVDs, Credit Cards, Paper, Clips, Staples |
| Cut Size | 1/4 x 1-50/87 inches | 5/32 x 2/5 inches | 1/4 x 1-14/25 inches | 5/32 x 1-19/50 inches | 5/64 x 25/64 inches |
| Max Pages Per Load | 18 Pages | 12 Pages | 14 Pages | 14 Pages | 10 Pages |
| Continuous Run Time | 60 Mins | 60 Mins | 30 Mins | 120 Mins | 240 Mins |
| Cool Down Time | 10 Mins | 10 Mins | 10 Mins | 10 Mins | 10 Mins |
| Noise Level | 62 dB | 62 dB | 58 dB | 58 dB | 58 dB |
| Basket Capacity | 6 gallons | 6 gallons | 4.5 gallons | 6 gallons | 7.9 gallons |
| Basket Type | Pull-out | Pull-out | Pull-out | Pull-out | Pull-out |
| Product Dimensions | 360×285×545 mm | 360*285*545 mm | 320*242*505 mm | 367*283*568 mm | 410*320*624 mm |
| Product Weight | 10.7 kg | 10.7 kg | 7.4 kg | 12 kg | 18 kg |
If you have any questions about our products and services, please email support@bonsaii.com. We will reply within 24 hours!
Customer Reviews
05/08/2020
Tom F.
United States
I got i
It is an awesome paper shredder Monster!
04/23/2020
Megan S.
United States
Awesome so far
Shredded 6 bags worth of stuff without issue. So far very happy with my purchase!
04/10/2020
J. Perlman
United States
Slow
Too slow for bulk shredding.
Very pleased with this product
I was skeptical at first based on similarity of design with my present shredder I'd had for quite some time and it crapped out on me due to a faulty slide switch like the one this machine has but your staff persisted and convinced me to try it based on good reviews for this product and I'm glad I bought it .So far it works really well and totally exceed my expectations.
This is the shredder you are looking for
I was quite skeptical about its claims as I had purchased a Staples brand shredder in the past that claim to shred seven papers and only did three at a time. This one will shred slightly more papers than a claims at a time. It's a beast!
So far the best online purchase in 2020
Anyone who usually buys a piece of office equipment or an appliance at my company usually gets snide comments regarding how the unit fails to live up to it's promise. "Who bought this piece of..." Not so with this unit, nothing but positive comments. "Love" has been used a couple of times. Eats everything you throw at it without even straining including CDs and credit cards. Full indicator works and the window in the basket is a great feature. We don't use it for hours on end, but we will chew up a 100+ pages at a time.
Micro cut very well
I have been using this shredder now for 6 months and it has worked great. The noise level is good and it cuts into small bits even smaller than confettis. It also cuts credit cards well. The handle on front makes it easy to empty the bin. The wheels make it easy to move. Thus far, no cons to report.
My junk mail solution
Nice and quiet with the power to shred junk mail. I can use this shredder without setting off my dog alarm. Every time I used my old Fellowes W11C, my dog started barking. Well done Bonsaii!