Hello Bonsaii Customers!
As always, we here at Bonsaii are incredibility appreciative and blown away by all the support that we get so we have another promotion for you! In honor of Thanksgiving and Black Friday coming up, to show our gratitude for all of you, have decided to give away free electric pencil sharpeners, S120-C personal home shredder, A4 laminators, full refund, lifetime warranty with the purchase of a paper shredder! All you will have to do is just leave a comment at the checkout section. Again, thank you so much for all the support and we can't wait to do more business with all of you
1. To enter, all you would have to do is to tell us the reason why you bought our products. There will be a section at the order confirmation page for you to leave your comments after you have bought our products. Enter the reason that why did you choose this item. As the picture shown below.
2. We will randomlly choose 100 of the customers who left a reason for buying our product to win Lifetime Warranty, Full Refund, Free S120-C Personal Home Strip Paper Shredder, P110-A and P100-A Electric Pencil Sharpener, or L409-A A4 Laminator.

3. Reasons of buying the product can be simple or thorough. Any feedback is appreciative!

4. Prizes are only available for residents in the US.

5. There is a 6-hour delay in displaying the checkout comment you leave on the product page.
(If you can't find your checkout comment on the product page, please don't worry, it will show up later)
6. Bonsaii reserves the right to final explaination.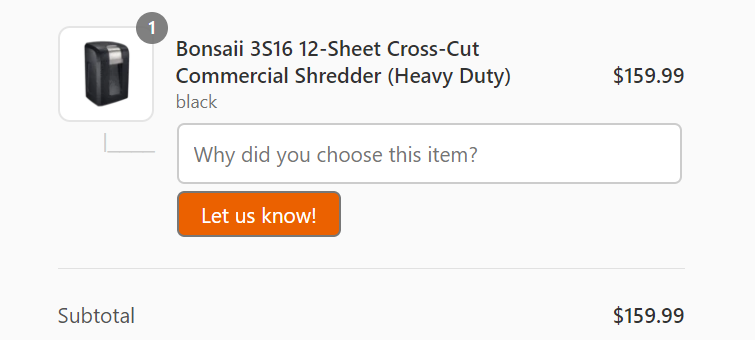 10 customer will receive a lifetime warranty
20 customers will receive a full refund
70 customers will receive a brand new S120-C,P100-A, P110-A or L409-A (one of them)
Shreds 8 sheets (Letter Size) of paper in one sitting
P-2 security level, paper shreds measuring 6mm
Destroys paper, credit card, clips, CDs and staples
3-minute continuous run time with 30-minute cooldown timeAuto start and manual reverse to easily clear paper jams Overheating and overloading protection helps maintain your shredder so it can always work at its peak condition
3.5-gallon pull-out wastebasket capacity for less frequency of emptying.

Pencil sharpener with see through receptacle
Helix pencil sharpener : fit for 5.8-10.9mm pencils.
Electric pencil sharpener with helix cutter.
Application to office & school
Noise: <80dB
On/Rest: 5 minutes on, 15 minutes off
Standard wooden pencils(diameter): 5.8, 6.8, 7.5, 8.0, 9.2, 10.9mm
Product dimensions: 17.4 × 10.6 × 17.4cm
Product weight: 1.3 kg
Pencil sharpener with see through receptacle
Helix pencil sharpener : fit for 8.0mm pencil
4*AA Batteries operated pencil sharpener
Noise:<80dB
With helix cutter2.3m/min
Auto-off when receptacle pull-out for safety concerns
4*AA battery operated
Non-skid rubber feet
Compact, contemporary design
20GP / 40GP / 40HQ:22830pcs / 45840pcs / 51825pcs
It features with a jam-release button and glossy outside finish.
This a4 hot laminator machine can laminate 80-125mic pouch.
This laminator can laminate paper and photos.
Jam Release Function:Yes
Warm Up Time:<3 mins
Rollers:2 pcs
Unit Dimension:358*135*58mm
Unit Weight:0.87kgs
20GP/40GP/40HQ:6400pcs/13500pcs/16000pcs
Size:A4
Laminating Width:230mm
Maximum Thickness:0.5mm
Laminating Speed:400mm/min
Laminating Range:80-125mic
The Black Friday Giveaway will last two weeks from 11/23 to12/7.
We will reveal the 100 lucky customers and the particular giveaway they win on 12/10 via blog.