Share and Win!
Hello Bonsaii Customers!
We here at Bonsaii, are so incredibly appreciative of all your support. To hear your thoughts and feedback, we want to know how you feel about our products and why you have chosen to purchase it. Your feedback is extremely important to us as we are constantly looking for ways to improve our company. As a thank you for your feedback, we are hosting a giveaway from 8/21/2020 to 8/31/2020.
1. To enter, all you would have to do is to tell us the reason why you bought our products. There will be a section at the order confirmation page for you to leave your comments after you have bought our products. Enter the reason that why did you choose this item. As the picture shown below.
2. We will randomlly choose 16 of the customers who left a reason for buying our product to win the prizes.

3. Reasons of buying the product can be simple or thorough. Any feedback is appreciative!

4. Prizes are only available for residents in the US.

5. There is a 6-hour delay in displaying the checkout comment you leave on the product page.
(If you can't find your checkout comment on the product page, please don't worry, it will show up later)
6. Bonsaii reserves the right to final explaination.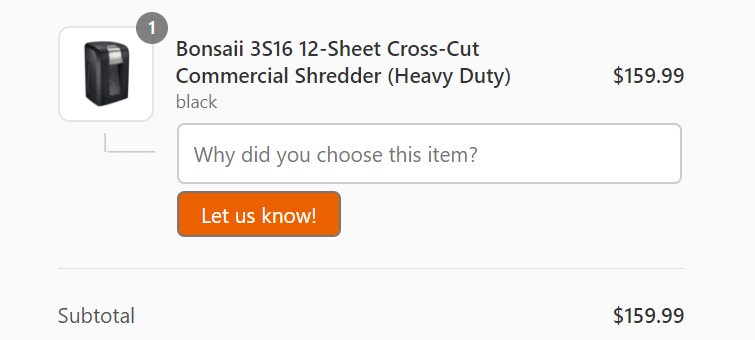 One customer will receive a lifetime warranty
Five customers will receive a full refund
Ten customers will receive a brand-new S120-C, a personal small paper-shredder perfect for your home!
Winners will be revealed on 9/1/2020 on our blog section!